Insights
KAP's insights on private equity investor relations and fundraising
Partners Group launches debut impact fund; CalSTRS prioritizes high-control and liquid strategies; CBRE publishes investor sentiment report
MARKET NEWS
CBRE releases its Americas Investor Intentions Survey 2018. The survey reflects the investment sentiment of nearly 300 investors focused on the Americas. According to the results, investors are more positive going into 2018 than they were at the start of last year, planning marginally more purchasing activity. Risk tolerance is expected to remain unchanged, but investors' search for yield and asset diversification is pushing them toward value-add assets, secondary markets and "alternatives" in 2018. A notable change in preferred property type is depicted in the graphic below, with investors indicating a higher preference for industrial and retail assets in 2018 vs. 2017.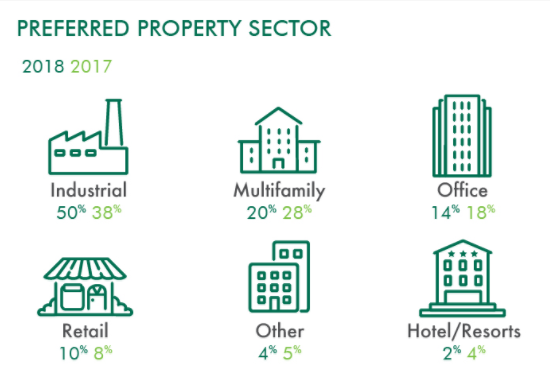 Retail landlords sell assets to raise cash. More real-estate assets owned by publicly listed REITs are up for sale as the gap widens between their discounted share prices and the value of private-market transactions of physical assets. For the third year in a row, shares of REITS have underperformed the broader stock market, in part because of rising interest rates. Because it would be difficult to issue new shares if REITs continue to trade at discounts, some are now compelled to sell assets to raise cash to help them reposition their remaining assets or fund share buybacks. REITs could sell individual assets, sell stakes in assets to other institutional investors and enter joint ventures in which they also could earn some management fees, or be acquired entirely and privatized by an investor. These sales aren't driven by the need to reduce debt because REITs have been more disciplined since the financial crisis, so property prices aren't likely to fall drastically. Listed REITs have been net sellers of assets since 2015, according to data from Real Capital Analytics.
CAPITAL RAISING UPDATES
CenterSquare Investment Management launches fourth value-added fund. The fund will invest in middle-market transitional assets in commercial properties across the U.S. The target is unknown, but the fund's predecessor held a final close on $146 million in 2015.
Partners Group launches debut impact fund. The firm has joined a growing number of firms moving into impact investing with the launch of a cross-asset fund targeting private equity, real estate, debt and infrastructure. The fund, PG Life, has a $1 billion hard cap and will focus on education, healthcare, energy access, clean energy and social inclusion targeting deals in line with the U.N.'s Sustainable Development Goals across developed and emerging markets globally.
SARES-REGIS seeks $400 million for new apartment fund focused on the west coast. The firm's Multifamily Value-Add Fund III is seeking $400 million, the largest target the manager has set for a commingled fund. The fund's predecessor raised $304.2 million in 2016. Fund III will be focused on Class B properties in in western markets (Northern California, Seattle, Denver, Portland and Phoenix.) The fund is targeting a 14% to 16% Gross IRR and expects 35% of the return to come from current income.
TH Real Estate launches new multifamily fund. CASA Partners VIII is a value-added real estate fund that will invest in multifamily properties throughout the U.S. The fund has raised $100 million so far, according to a filing with the SEC. The fund's predecessor held a $245 million closing in 2017.
NOTABLE TRANSACTIONS
Brookfield Property Partners to buy remaining stake in GGP. Brookfield announced a deal to buy mall operator General Growth Properties for $9.25 billion in cash. Brookfield already owns 34% of GGP and plans to create a new REIT. Upon approval of the acquisition by GGP shareholders, the combined Brookfield and GGP companies will have $90 billion in total assets and net operating income of more than $4 billion. However, Barron's recently reported that independent shareholders may reject the bid, citing analysts' beliefs that the transaction undervalues GGP.
Blackstone Strategic Capital Holdings acquired a passive minority stake in PAG. PAG closed its Secured Capital Real Estate Partners VI with $1.9 billion in commitments in September 2017. The fund will focus on distressed debt and property investments in Japan, as well as opportunistic real estate in China, Korea. PAG Real Estate has invested more than $25 billion in more than 6,700 properties across Asia. For Blackstone, the PAG deal represents the first overseas transaction completed by the fund, bringing the total number of PE managers in its portfolio to four.
LIMITED PARTNER NEWS
New Mexico Employees Retirement Board (NMERB) commits $70 million to two real estate funds. NMERB committed $40 million to Ram Realty Partners V, a value-added fund which will invest in shopping centers, retail and multifamily properties throughout the southeastern U.S. NMERB committed $40 million each to the fund's two predecessor vehicles in 2015 and 2011. The public pension also committed $30 million to Sares-Regis Multifamily Value-Add Fund III. NMERB currently has $11.7 billion in assets and allocates 6.1% to real estate, below its 7% target.
New Jersey State Investment Council has committed $100 million to TPG Real Estate Fund II.  The fund will target value added and opportunistic investments in residential properties and real estate companies. New Jersey has $77.5 billion of assets and currently allocates 4.7% to real estate, below its 7.25% target.
Alameda County Employees Retirement Association (ACERA) has made two follow-on commitments. ACERA committed an additional $20 million to Clarion Lion Industrial Trust, an open-ended private REIT that focuses on bulk distribution and warehouse assets in the U.S.  ACERA originally committed $25 million to the fund in 2016. The public pension fund also committed an additional $20 million to Heitman Value Partners IV, bringing its total commitment value to $30 million. The Heitman fund targets industrial, multi-family, office, retail and niche sectors such as self-storage throughout the U.S. The $8.4 billion public pension fund currently allocates 6.2% of assets to real estate, below is 8% target.
California State Teachers' Retirement Systen (CalSTRS) closed roughly $4.4 billion of real estate commitments in H2 2017. According to the semi-annual activity report for real estate, in the second half of 2017 CalSTRS closed roughly $4.4 billion of commitments to new and existing real estate partners. The majority of the commitments ($2.8 billion) were in high-control and liquid strategies (such as joint ventures and open-end funds.) Roughly $925 million was in closed-end commingled fund structures and another $650 million was put into low-volatility debt strategies that provide high current cash flows and compelling total returns. As of December 31, 2017 the $215 billion public pension had an 11.83% allocation to real estate, as illustrated here.