Insights
KAP's insights on private equity investor relations and fundraising
Property funds seek to consolidate; PGIM launches open-end debt fund; CalSTRS pledges nearly $800m to U.S. real estate partnerships
MARKET NEWS
Property funds look to consolidate. M&A activity has increased in the real-estate fund-management business as firms consolidate, seek out new sources of capital and stake out new markets in anticipation of changes in the long-running bull market. Deals may involve mergers of real-estate specialists, like Patrizia's absorption of Rockspring Property Investment Managers, Sparinvest Property Investors, and Triuva. Other deals are combinations of managers that invest in real estate and other assets, as with last year's $16 billion merger that created Standard Life Aberdeen. Others involve firms' minority and passive stakes in managers, such as a Blackstone's recent purchase of a roughly 20% stake in Rockpoint Group. In addition to general market factors, institutional investors may be encouraging this consolidation as they look to reduce the number of managers with whom they invest.
For private funds, the beginning is in the end. When raising a new fund, General Partners need to show they can handle their end-of-life funds. The topic has received much attention recently, as funds raised between 2006 and 2008 reached their 10-year anniversary, and presumably the natural end of its fund life. Given that the decade was punctuated by the global financial crisis – and a dramatic slowdown in investment and realization pace – many funds have been left holding more assets than they, or their original LPAs, have accounted for. As a result, managers are exploring different ways to bring them to a close or revamp them to continue holding the assets, navigating uncharted territory with no established best practice on how these processes should be managed. Straight forward extensions are not that straight-forward and "GP-led restructuring" deals can be more complicated. One in five GPs is expecting to restructure or recapitalize a fund this year, according to a delegate poll at PEI's CFOs and COOs Forum, and more than two-thirds will seek extensions.
CAPITAL RAISING UPDATES
Columbia Pacific Advisors launches real estate fund. The Seattle-based investment manager has launched Columbia Pacific Real Estate Fund III with an undisclosed target. So far, the firm has raised $49 million for the fund, which will consist of a diversified portfolio of assets including housing, multifamily, office, retail, hospitality, industrial, and self-storage. The fund's predecessor held a $170 million final close in 2016.
Thackeray Partners holds $350 million final close on fifth fund. Thackeray Partners Realty Fund V surpassed their fundraising target of $250 million with $350 million of LP commitments. Since inception, the firm has raised five funds totaling more than $1.4 billion of equity. Thackeray Partners seeks a diversified portfolio of stabilized, value-added and development opportunities, primarily in industrial and multifamily properties throughout the U.S.
PGIM Real Estate launches open-end debt fund. PGIM Real Estate U.S. Debt is an open-ended vehicle that will invest in senior and subordinated loans secured by institutional real estate with strong fundamentals and predictable income streams. The firm is targeting approximately $2 billion over a three-year period. Once fully invested, the fund is expected to hold about 65 debt investments at any given time.
Cresco Capital Group launches first fund. The fund, CCG1, raised €197 million ($245 million) of equity commitments to invest in project development in Germany, with a particular focus on the residential sector. The fund intends to invest in the major German cities and university towns. While its focus is on student- and serviced-apartment projects, it also invests in other asset classes, such as neighborhood, office and hotel developments. The fund is already 50% invested in four projects in Berlin, Frankfurt and Cologne, with a total investment volume of approximately €300 million ($373 million).
PEOPLE MOVES
Waypoint Residential adds three to senior-level roles. Real estate investment firm Waypoint Residential announced it has added three members to its senior team to bolster the firm's operations. Waypoint has brought on Doug Wolski as managing director of portfolio management, James Driscoll as senior vice president of development and Gina Lujan as vice president of talent. Wolski will oversee portfolio, property dispositions and valuations for the company. Driscoll will lead the Waypoint's development efforts in the Northeast region, including land acquisition and construction and lease-up of new properties. Lujan will advance Waypoint's employee development strategy through strategic recruiting and performance management.
LIMITED PARTNER NEWS
The California State Teachers' Retirement System (CalSTRS) plans to invest $795 million in U.S. real estate through a partnership with PCCP and Beacon Capital. CalSTRS plans to commit $495 million in real estate debt through a joint venture with PCCP, PacificCal Debt II, and $300 million to Beacon Capital Strategic Partners VIII fund. PacificCal Debt II is a core real estate fund, while Beacon Capital Strategic Partners VIII follows a value-added approach. In the second half of 2017, CalSTRS closed roughly $4.4 billion of real estate commitments to new and existing managers. Roughly $925 million was in closed-end commingled fund structures. Another $650 million was put into low-volatility debt strategies.
Kern County Employees' Retirement Association (KCERA) committed $60 million to Landmark Real Estate Partners VIII. The closed-end, value-add vehicle focuses on secondary investments in U.S. properties. The fund's predecessor held a $1.6 billion final close in 2015, exceeding its $1 billion target. KCERA currently manages $4.2 billion of assets and allocates 4.9% to real estate, below its 10% target.
Oregon Investment Council provided an annual review of their real estate portfolio and outlined their 2018 strategic plan.   A comparison of their portfolio to five years ago revealed a similar concentration of managers (in 2012 the top 10 managers made up 62% of portfolio NAV compared to 61% in 2017). However, the strategy and exposures of the top 10 managers has shifted significantly towards lower risk, less volatile strategies (see chart below). The fund expects to commit $550 million to separate accounts specifically designed to meet OPERF's strategy needs including a lower fee structure than closed-end vehicles, a distribution waterfall that maximizes alignment and the ability to retain greater control over capital pacing and asset monitoring. Over the next four years, the pacing plan will continue to shift the OPERF real estate portfolio toward a long-term target of 55% core, 20% value-add, 20% opportunistic and 5% publicly-traded REITs. A search for an Investment Officer is currently in process.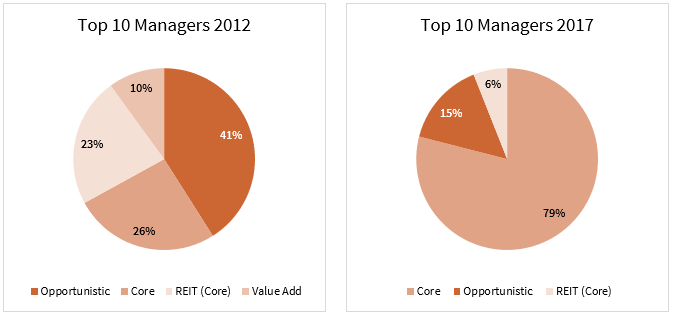 Ontario Pension Board continues increasing real estate portfolio by 18.1%. Ontario's public service pension plan ended 2017 with a 10.8% return. Net investment income during the year amounted to $2.5 billion and net assets grew to $26.4 billion by December. The return came as OPB continued its strategy of shifting assets from public to private markets. This included increasing its real estate portfolio by 18.1%, infrastructure portfolio by 15.8%, and private equity portfolio by 53.5%. Overall, private markets investments consisting of real estate, private equity, and infrastructure returned 4.5%.
Nebraska Investment Council has made two new real estate commitments. The council, which oversees $27 billion in assets, committed $40 million each to Almanac Realty Securities VIII, a value-added real estate fund and Torchlight Debt Opportunity Fund VI, a real estate debt fund. In 2015, the council committed $40 million each to Almanac and Torchlight's predecessor funds. Nebraska Investment Council currently allocates 5.7% of plan assets to private real estate funds, below its 6% target.